Tour of Oz
Into the Outback
July 18 - July 19, 2001
Adelaide to Flinders Ranges
From Adelaide, I took an eight-day bus tour going north through Australia's outback. I went with a small bus tour - there were only twelve of us on-board, which seemed just perfect.

This was the part of my trip I'd really been looking forward to. There are about 20 million people in Australia, and 85% of them live within a one-hour drive of the coast. Geographically, the Australia is approximately the same size as mainland U.S. The interior of the country is sparsely populated, and is mostly classified as "semidesert".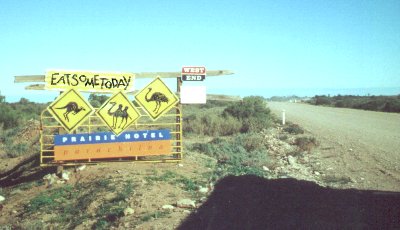 'Roos, Camels, and Emus...Eat Some Today! Actually, I did end up eating Kangaroo on my trip. Tastes like beef.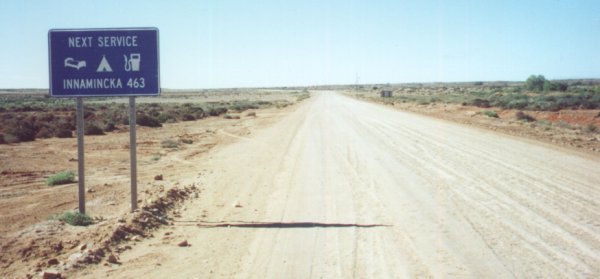 There's a lot of nothing in the outback. Next service station in 463km (287mi).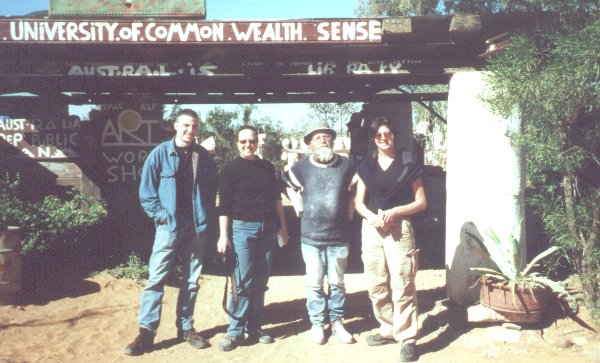 Myself, Linda, Talc Alf, and Becky. Talc Alf is a rather curious gentleman who lives in the middle of nowhere and sells sandstone carvings. He has a exhaustive set of theories on how letters and words were created, and is only too happy to interpret any name you wish to throw at him.
The Ochre Pits
The Aboriginals in Australia often used ochre (a sort of clay that has a yellow or red pigmentation) as a body paint.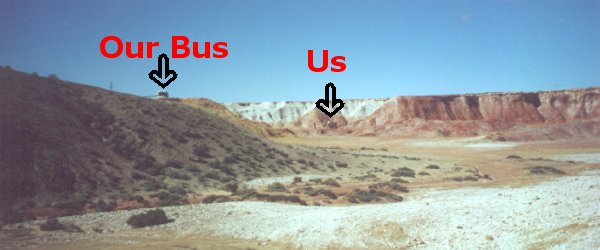 It's a big pit.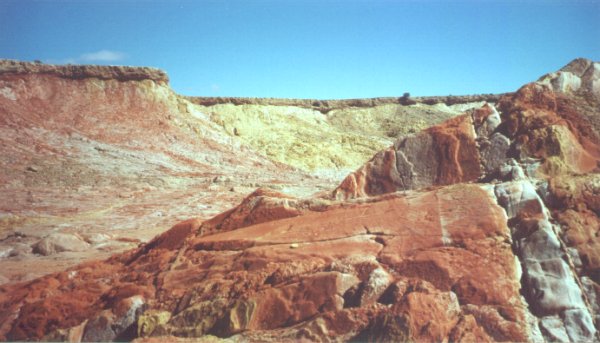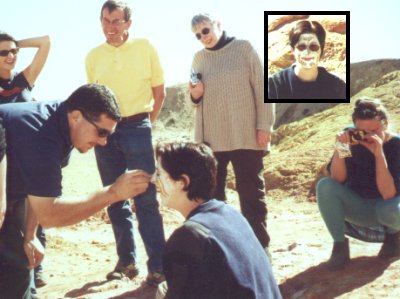 Becky courageously volunteered to let our driver, Bill, paint her face using the ochre.
Flinders Ranges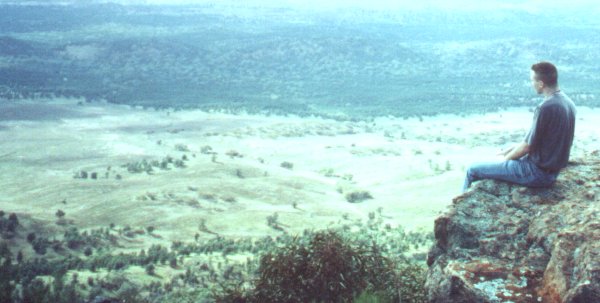 Our first night was spent at the Flinders Ranges. In the morning we climbed up Mt. Ohlssen Bagge to get a view of Wilpena Pound (which is basicly a circle of mountains).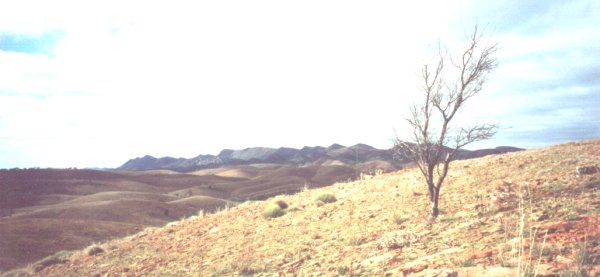 | Intro | Sydney to Canberra | Canberra to Melbourne | Melbourne to Adelaide | Into the Outback | Flinders Ranges to William Creek | William Creek to Coober Pedy | Coober Pedy to Uluru | Uluru and Kata Tjuta | Kings Canyon | Alice Springs to Cape Tribulation | Cape Tribulation | Scuba Diving | Cairns to Sydney

Back to Rich's Picture Album