Tour of Oz
Alice Springs to Cape Tribulation
July 26 - July 31, 2001
Alice Springs
I was now in Alice Springs, approximately in the middle of Australia. I stayed in Alice for a few days, and then took a three-day bus to Cairns, on the northern end of the east coast.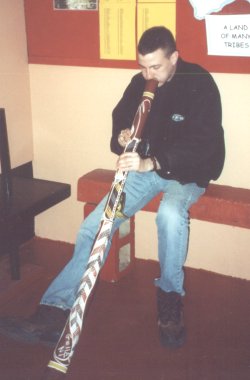 Before leaving Alice, I took a Didgeridoo lesson. The Didge is an Aboriginal instrument made from a young tree thats been hollowed out by termites. For a seemingly simple piece of wood, in the hands of a good player it can produce some very interesting sounds. I was pretty good at the Didge, maybe I'll buy one.
Alice to Cairns
The bus from Alice to Cairns was a bit disappointing. We saw some neat things, but it leaned more towards being a method of transportation than being an adventure in itself. I spent a couple of days in Cairns, and then went for a short trip to Cape Tribulation

Anyway, here's a disgusting story. One evening when I was sharing a four-bed dorm with some fellow travellers, one of the girls (who refused to stop talking to me) told me that she hadn't brushed her teeth in four days, and had been kissing some guy the night before.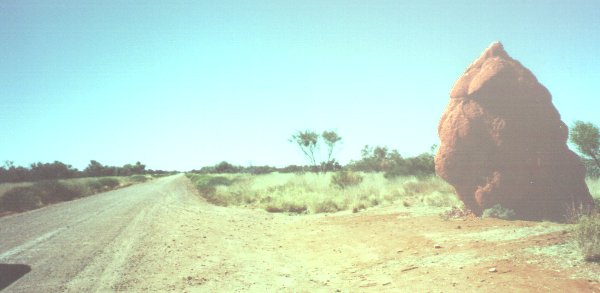 What's that by the side of the road?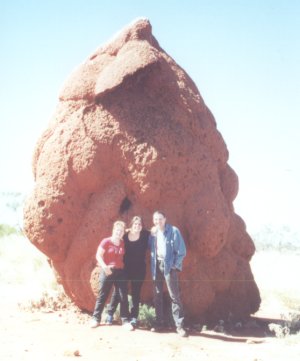 Yes, it's a 5m (15ft) high termite mound, with Dianne, Nance, and myself in front of it!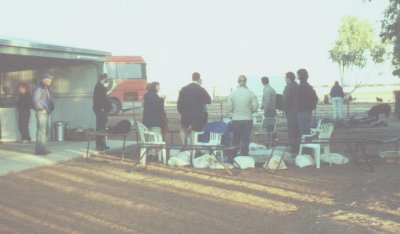 A typical early morning breakfast at a Sheep and Cattle station in Boulia.


Followed by a morning hike through the middle of nothingness.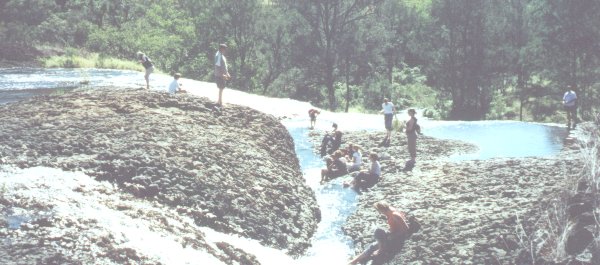 We made a stop at Millstream Falls.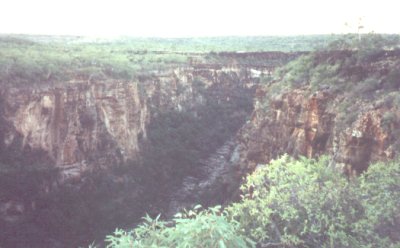 And Porcupine Gorge.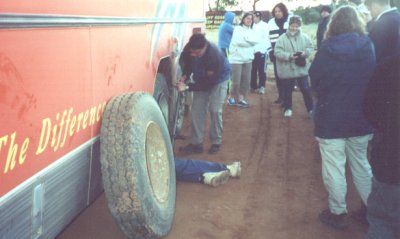 A bus trip isn't complete without some sort of breakdown.



| Intro | Sydney to Canberra | Canberra to Melbourne | Melbourne to Adelaide | Into the Outback | Flinders Ranges to William Creek | William Creek to Coober Pedy | Coober Pedy to Uluru | Uluru and Kata Tjuta | Kings Canyon | Alice Springs to Cape Tribulation | Cape Tribulation | Scuba Diving | Cairns to Sydney

Back to Rich's Picture Album