Tour of Oz
Canberra to Melbourne
June 29 - July 4, 2001
June 29th
On June 29th I left Canberra to make the three-day Oz Experience trip to Melbourne, Australia's second largest city.

Today we:
Stopped for lunch in a small town called Bombala, where we visited a recently reopened movie theatre from the 1920s (and got to see some rather amusing vintage footage, too).
Saw the Snowy River.
Did a lot of mountain driving through the beautiful Snowy Mountains.
Stayed at Karoonda Park in Gelantipy, Victoria, a sort of nature resort.
Went on a night drive to search for foraging nocturnal animals - we saw a possum, an owl, and a few wallabies.


The scenery along the way was awesome - words and pictures couldn't possibly do it justice.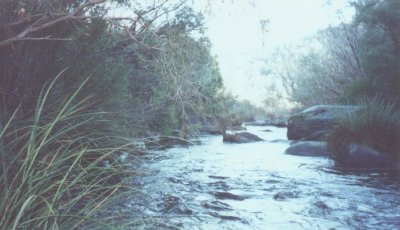 The Snowy River - not very snowy, is it?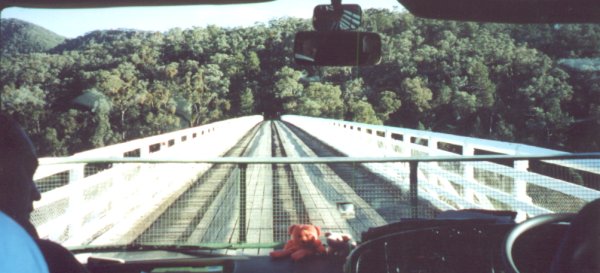 Crossing the McKillops Bridge, spanning the Little River Gorge in the Snowy Mountain Ranges.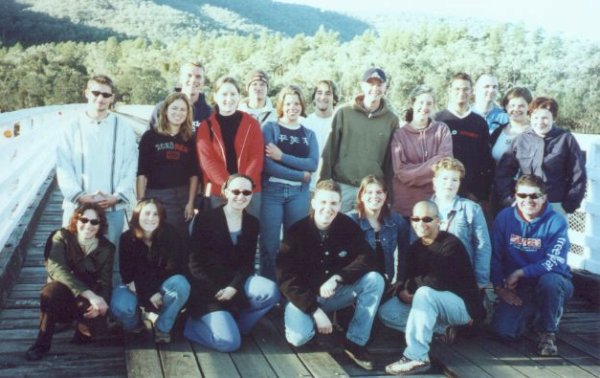 Our group.
June 30th
Today was a lot of driving, with a stop for some wine tasting, and we went to Phillip Island to see the "Penguin Parade", where hundreds of penguins come out of the water each evening to go to their nests. See me email for my report on this disappointment.

At night we all went to a club to dance (and drink) the night away.


We drove through the Snowy Mountains.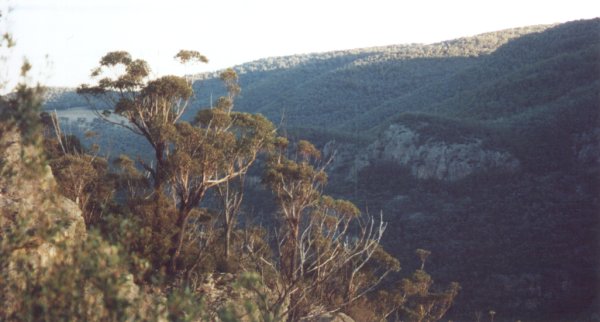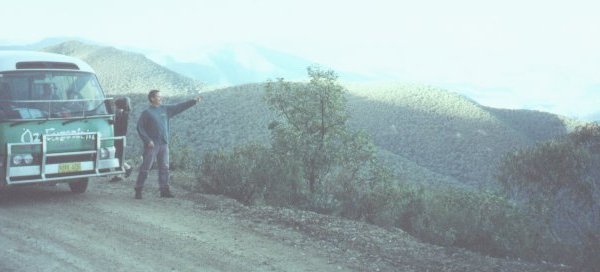 Bus drivers are always happy to pose for a shot.


View of the ocean from a little town called Lakes Entrance.
Melbourne: June 31st - July 4th
I spent four days hanging out in Melbourne, where I:
Learned that there is nothing particular to see in Melbourne, although the city does seem to have a certain culture that you don't find elsewhere.
Spent two nights in a hostel, and spent the days roaming around the city, at times with people I'd met on the Oz Experience bus.
Spent two nights with two friends, Emma and Trevor, whom I'd met on my Green Tortoise trip across the U.S. in August 2000.
Spent a day with Trevor. We saw an old jail where the infamous (in Oz, at least) Ned Kelly was hanged, and a rather funky area near the beach called St. Kilda.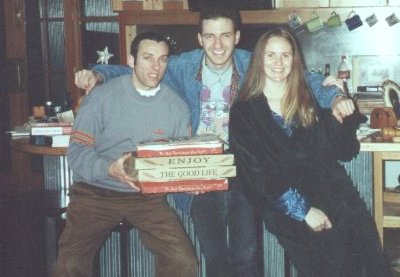 Trevor, Emma, myself, and the pizza that took two hours for delivery.



| Intro | Sydney to Canberra | Canberra to Melbourne | Melbourne to Adelaide | Into the Outback | Flinders Ranges to William Creek | William Creek to Coober Pedy | Coober Pedy to Uluru | Uluru and Kata Tjuta | Kings Canyon | Alice Springs to Cape Tribulation | Cape Tribulation | Scuba Diving | Cairns to Sydney

Back to Rich's Picture Album