Tour of Oz
Cape Tribulation
August 1 - August 5, 2001
Cape Tribulation
Cape Tribulation lies about 100km (60mi) north of Cairns, and is known for its rainforests and beaches. I went on a three-day trip (later extended to five days) with Gary and Denise, whom I'd met on the Adelaide to Alice Springs leg of my journey.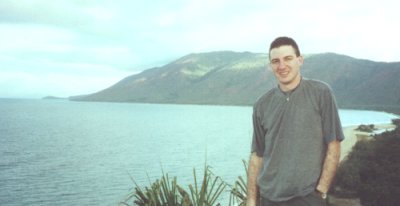 Somewhere along the way to Cape Trib.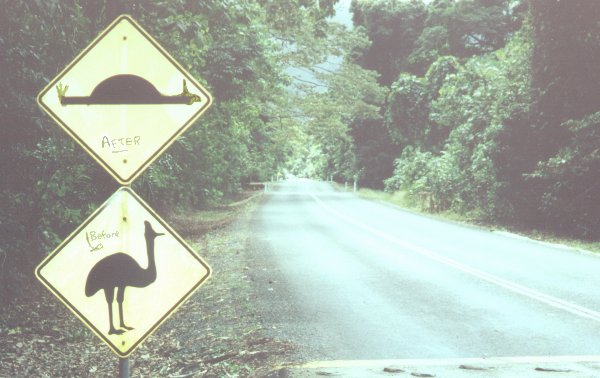 A little bit of creative grafitti has changed this sign warning about speed bumps and cassowaries into a much more amusing before-and-after illustration.
Crocodylus Village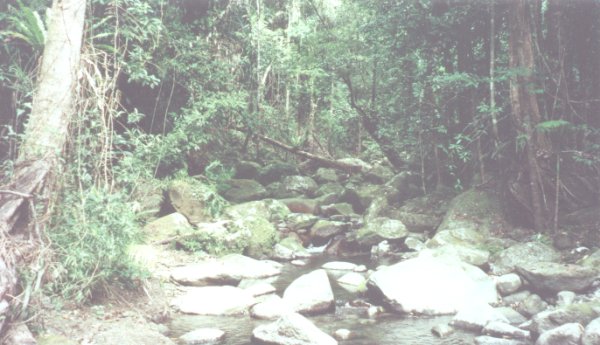 I spent three days at Crocodylus Village, located right in a tropical rainforest. Everything seemed so peaceful there, as if the tall canopy of the rainforest blocked out not only sunlight, but also all of the problems of the world.
We went for a few walks in the rainforest, where we saw turtles, fish, eels, lizards, and a cassowary, and we gathered fresh coconuts from the side of the road (opening them took half of the day).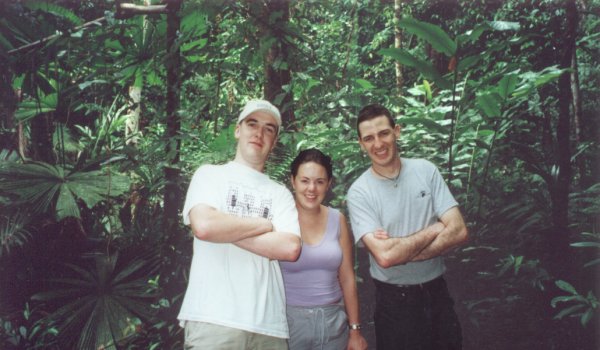 Gary, Denise, and me.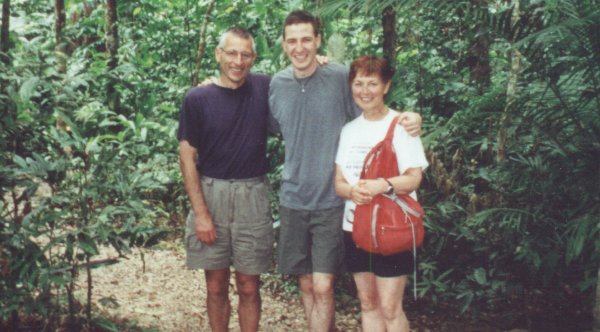 Vic, myself, and Ros. I ran into these two on numerous occassions during my travels.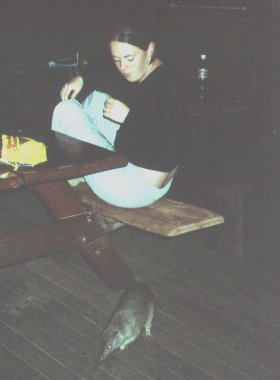 Denise and the bandicoot.
PK's Jungle Village
I also spent two days at another Cape Tribulation resort, PK's Jungle Village, which was more of a party-beach-resort type of place. I do have some memories one evening of playing some sort of drinking game with a bunch of strangers. Soon the people at our table were incurring very strange penalties requiring them to jump around imitating animals, reciting strange verses in unison, and sing whilst hugging a support pole.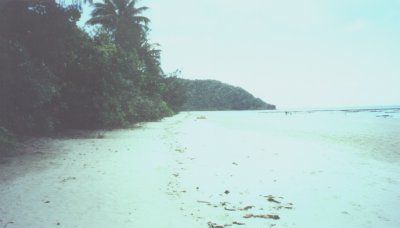 The beach near PK's.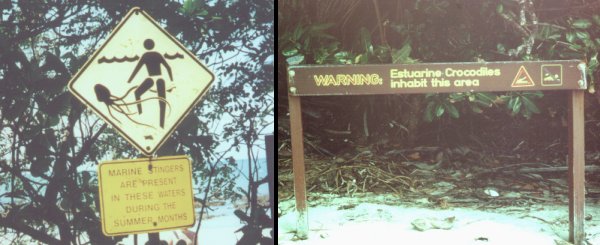 Welcome to Australia! Who's up for a swim?



| Intro | Sydney to Canberra | Canberra to Melbourne | Melbourne to Adelaide | Into the Outback | Flinders Ranges to William Creek | William Creek to Coober Pedy | Coober Pedy to Uluru | Uluru and Kata Tjuta | Kings Canyon | Alice Springs to Cape Tribulation | Cape Tribulation | Scuba Diving | Cairns to Sydney

Back to Rich's Picture Album