Tour of Oz
Coober Pedy to Uluru
July 22, 2001
On the Road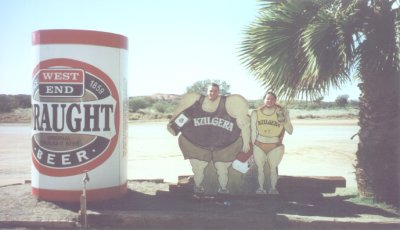 Well, call me lame, but I can't walk past one of these things without a picture, so I got Denise to pose with me.


Hey, a dingo! Can you spot him in the grass?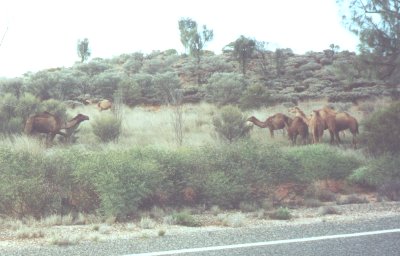 I bet you didn't know that Australia had a large population of wild camels.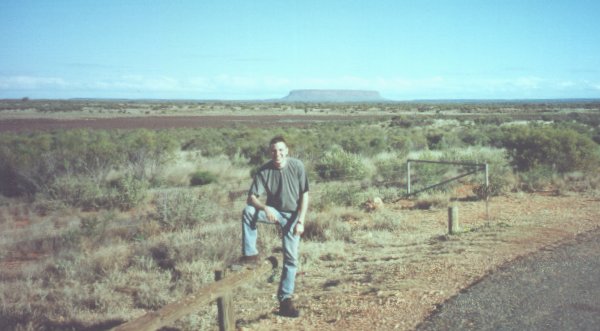 Mt. Connor, not to be confused with Uluru.
Life with Bill
Bill, our driver on this eight-day tour, added his own interesting twist to the trip, and it was often difficult to know when to believe his strange stories...
He told us of the Hoop Snake, which leaves a most peculiar trail. Instead of slithering across the ground like most snakes, it bites its tail and rolls like a hoop. Unfortunately, these snakes typically live in rockless areas, and if they happen to roll into a rock, they can get a debilitating buckle.
We spotted some bits of (what seemed like) chunks of tire on the side of the road, but Bill told us these were actually "Black Dunlop Tyre Lizards".
Bill told us all about the strange objects in the outback, like Cow Coolers (which you might mistake for a windmill), Camel Pacifiers (appearing almost exactly like microwave relay towers), and the ever-elusive KangaWallaFox, which all the tourists come to see.
We would wake up every morning to Bill in his happiest voice singing "Good Morning, Good Morning, and how are you today?" (it loses a bit being written).
One day, in the middle of nowhere, Bill had pulled over and jumped out of the bus so fast that we weren't sure what he'd found (which was typical behavior for Bill). Whatever it was, it was obviously around or within a bush that Bill was hunched over, and it was obviously something to be wary of.

We filed out of the bus as Bill was prodding at the brush. Keeping a watchful eye on whatever he was stalking, Bill motioned for us to slowly come closer to have a look. As we cautiously crept closer, he announced that it was the Man-Eating Rainbow Python. Now, you must understand that Bill had mentioned the Man-Eating Rainbow Python days before, instilling a subconcious hope that we would get to see one. Bill turned around and let us have a look...
THIS

IS

IT!




THE

MAN-

EATING

RAINBOW

PYTHON!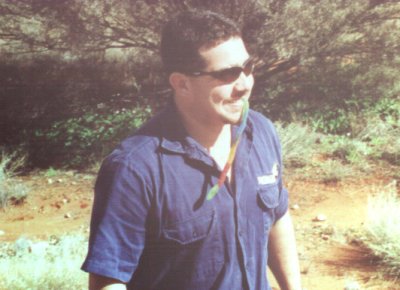 Watch out! It's Gummi!
Uluru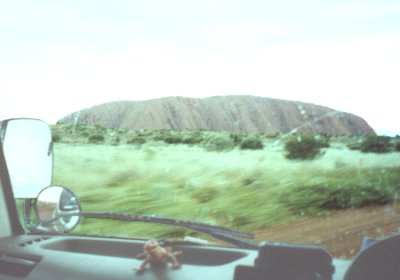 Look, we made it! I'll give the story on this chunk of rock later. Notice Bill's squeaky lizard on the dash.
How to make an Innocent chop his own socks with an Axe
This should be filed under "Cruel Driver Tricks". We camped out with a southbound bus near Uluru, where our drivers had concocted a trick to get someone to chop their own socks with an axe under the guise of an accuracy competition.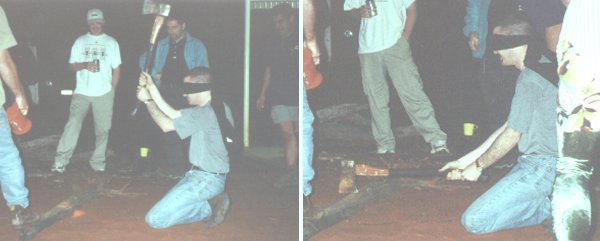 Representing our bus, I was to make a few chops in a log with an axe while blindfolded.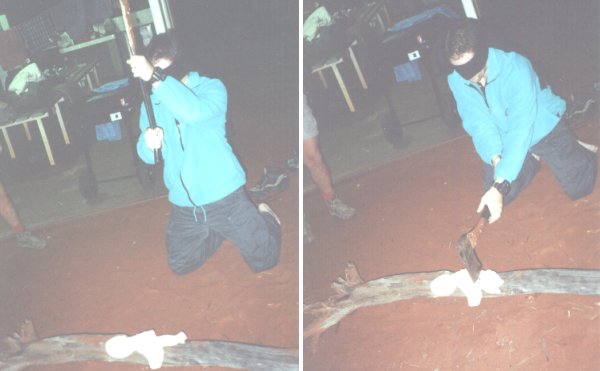 Now its the other guy's turn. But wait, I think those are his socks on the log. Too bad he's blindfolded.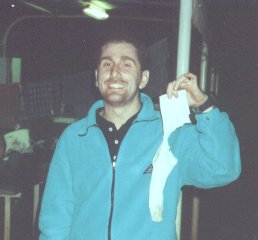 Tee hee.



| Intro | Sydney to Canberra | Canberra to Melbourne | Melbourne to Adelaide | Into the Outback | Flinders Ranges to William Creek | William Creek to Coober Pedy | Coober Pedy to Uluru | Uluru and Kata Tjuta | Kings Canyon | Alice Springs to Cape Tribulation | Cape Tribulation | Scuba Diving | Cairns to Sydney

Back to Rich's Picture Album