Tour of Oz
Flinders Ranges to William Creek
July 20, 2001
We continued our way north from the Flinders Ranges towards William Creek.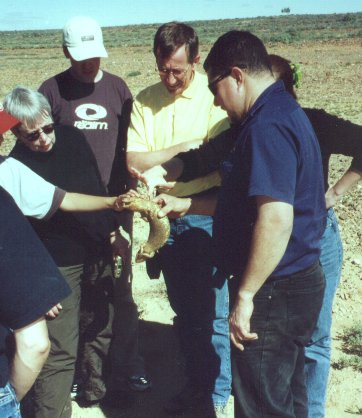 Every now and then Bill would see some sort of animal while driving and he would bring the bus to a sudden halt on the side of the road. He would then jump out of the bus and grab what he'd spotted. In this case, it was a stumpy-tailed lizard.


Emus and Kangaroos have a tendency to jump out in front of vehicles. This Emu dashed across the road as we approached it. Did you know Emus can run faster than Kangaroos? There's even a song about it.
On the Road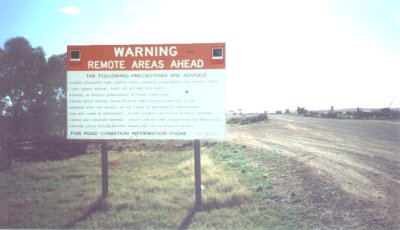 Now we're really in the middle of nowhere. The sign reads:
WARNING: REMOTE AREAS AHEAD
The following precautions are advised:

Carry adequate fuel, water, food, current road maps, two spare tyres, two jacks, shovel, first aid kit and tow rope
Travel at speeds appropriate to road conditions
Avoid night driving when wildlife and livestock may be active
Remain with the vehicle in the event of mechanical breakdown
Do not camp in waterways - flash floods can occur without warning
Avoid wet weather driving - roads can become dangerous and impassable
Advise local police before travelling off designated roads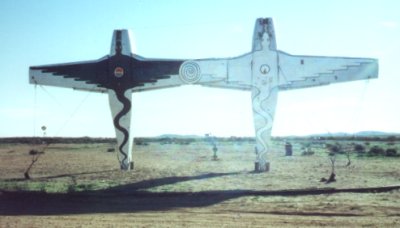 There's some strange things to be found in the middle of nowhere. A bit a desert art...
William Creek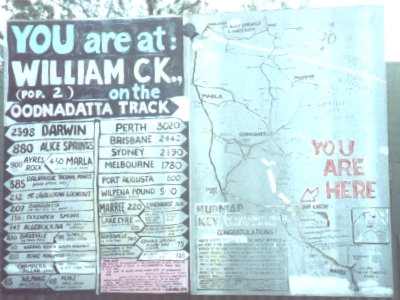 On the evening of July 20th, we stayed in William Creek, Population 2.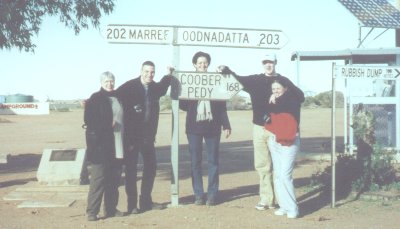 Connie, Me, Becky, Gary, and Denise.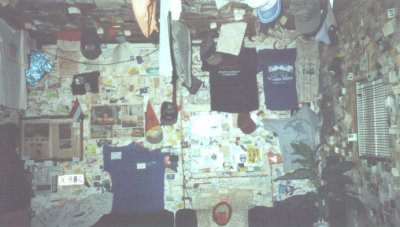 William Creek consists of a campground and a bar, which fit our requirements well. The walls and ceiling of the bar were covered in business cards, ID cards, and articles of clothing from past visitors.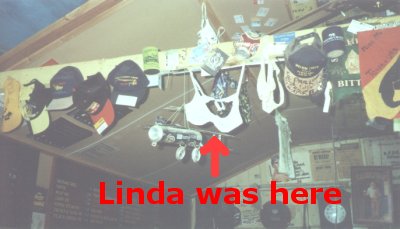 And our visit was also commemorated - Linda left her bra, which we all signed. If you ever find yourself in William Creek, perhaps you'll find Linda's bra with "Rich from Canada was here!" written on it.



| Intro | Sydney to Canberra | Canberra to Melbourne | Melbourne to Adelaide | Into the Outback | Flinders Ranges to William Creek | William Creek to Coober Pedy | Coober Pedy to Uluru | Uluru and Kata Tjuta | Kings Canyon | Alice Springs to Cape Tribulation | Cape Tribulation | Scuba Diving | Cairns to Sydney

Back to Rich's Picture Album