Tour of Oz
June 25 - August 14, 2001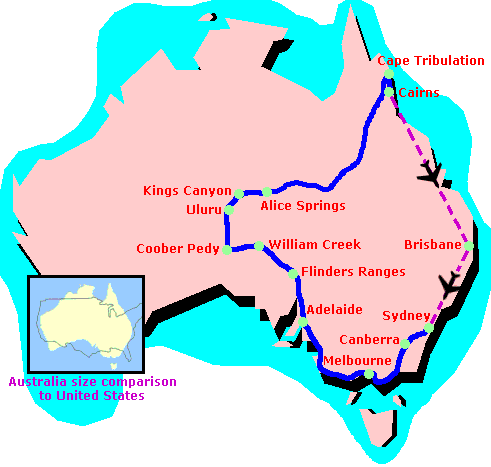 During my winter break at the University of Western Sydney, I did seven weeks of backpacking Australia. The plan was to bus it the entire way, but I ran out of time about two thirds of the way around, and I had to fly back from Cairns.

There's a lot of emptiness in Australia, and most backpackers do part or all of the circular route that I'd planned to do, which means you often meet up with people numerous times along the way, which makes it feel like you've got a sort of family on the road.


| Intro | Sydney to Canberra | Canberra to Melbourne | Melbourne to Adelaide | Into the Outback | Flinders Ranges to William Creek | William Creek to Coober Pedy | Coober Pedy to Uluru | Uluru and Kata Tjuta | Kings Canyon | Alice Springs to Cape Tribulation | Cape Tribulation | Scuba Diving | Cairns to Sydney

Back to Rich's Picture Album