Tour of Oz
Kings Canyon
July 25, 2001
Kings Canyon
Kings Canyon is another really neat place in the middle of Oz where we took a 3-4 hour hike.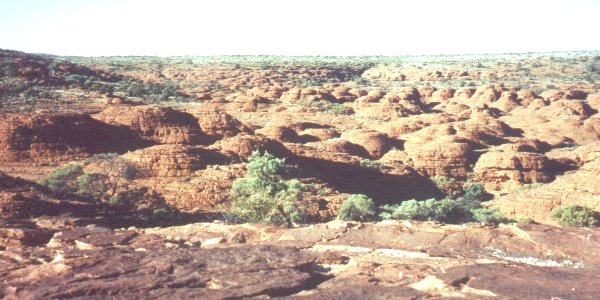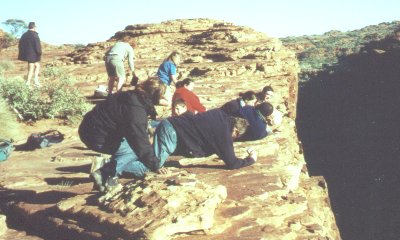 Looking over the edge.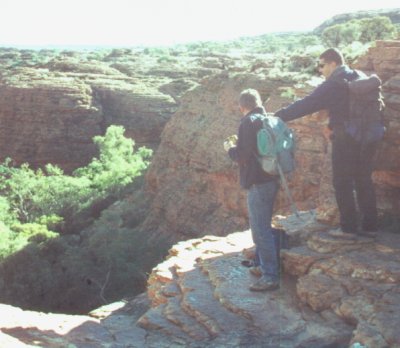 Bill and Ian looking down at the "Garden of Eden" in the canyon below.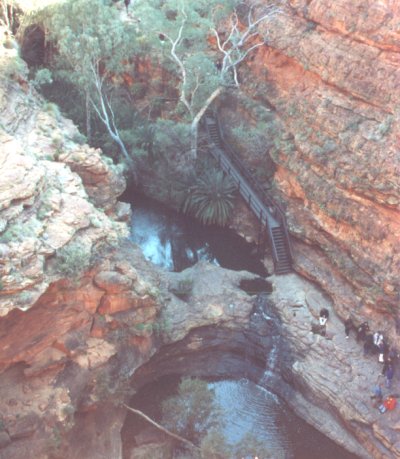 The Garden of Eden...More of a lake if you ask me.
The End of the Wayward Bus
This was the end of my eight-day outback tour. We had gotten bogged down at Lake Cadibarrawirracanna, slept in a glorified cave in Coober Pedy, and had held tent-pitching races near Uluru. It's always sad to say goodbye to a group of people that you've experienced so much with in such a short time. Some of us stayed around in Alice Springs for a few days to see the sights, but we eventually all parted ways.



| Intro | Sydney to Canberra | Canberra to Melbourne | Melbourne to Adelaide | Into the Outback | Flinders Ranges to William Creek | William Creek to Coober Pedy | Coober Pedy to Uluru | Uluru and Kata Tjuta | Kings Canyon | Alice Springs to Cape Tribulation | Cape Tribulation | Scuba Diving | Cairns to Sydney

Back to Rich's Picture Album