Tour of Oz
Melbourne to Adelaide
July 5 - July 17, 2001
The Great Ocean Road
On July 5th I left Melbourne to make the four-day (although I would take 11 days to complete it) Oz Experience trip to Adelaide, in the middle of Australia's southern coast.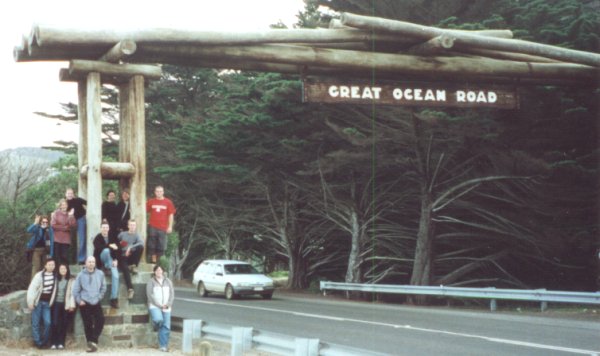 We took the Great Ocean Road, which winds its way along the southern coast between Melbourne and Adelaide.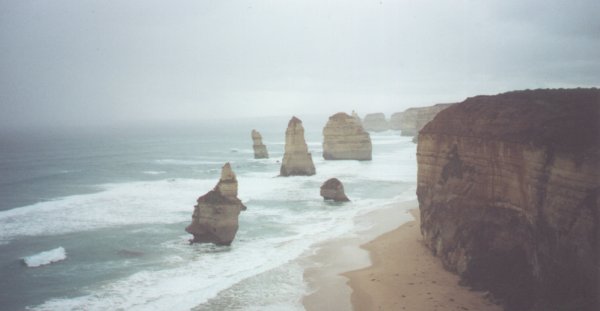 The Twelve Apostles - a well known group of eroded sedimentary landforms. There are actually only ten left now.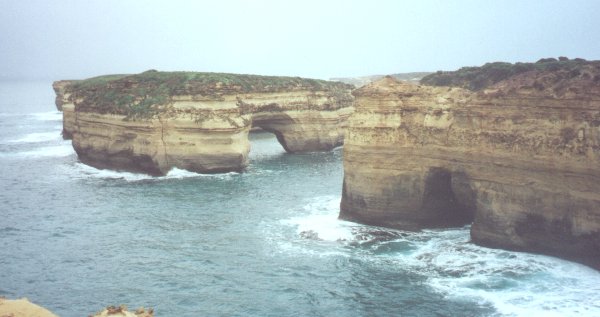 The Great Ocean Road is littered with beautiful sights - I spent most of the bus ride just staring out the window. Above is an area called Loch Ard Gorge, known for a ship that sank in 1878 (after coming all the way from England, they sank off the coast).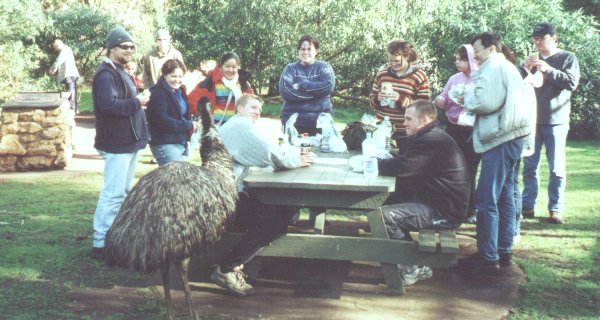 One day we grabbed lunch at Subway and ate it at Tower Hill, a huge volcanic crater that is now a national park, and is home to a bunch of wildlife, including Koalas and Emus (who were very interested in the food we'd brought).
Some other events along the way:
Stayed up really late one night to see a partial lunar eclipse. On the same night I had the hoohaw scared out of me by a wild (and possibly very angry) pig.
Stopped at Mait's Rest, where we took a walk through a "Cool Temperate Rainforest".
Grampians National Park
On July 6th we arrived in Halls Gap in the Grampians National Park, where I decided to stay for three days (which I later extended to eight). There were awesome hiking trails through the mountains, and it was a perfect place to just chill out for a week.

I went on numerous hikes of varying length, up to 10km (6mi). I hung out with some other travelers, mostly Rosalia, Vic and Roz, and Julia, I saw Aboriginal Rock Art, some Aboriginal dancing, and, most of all, I relaxed.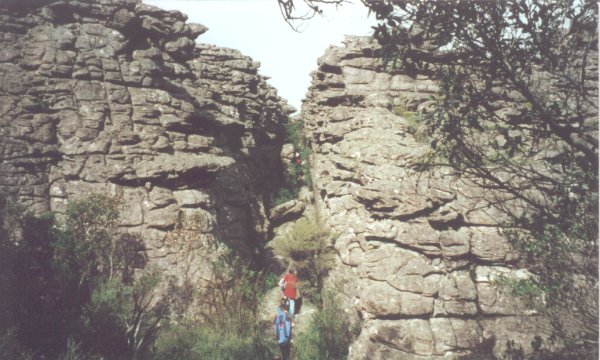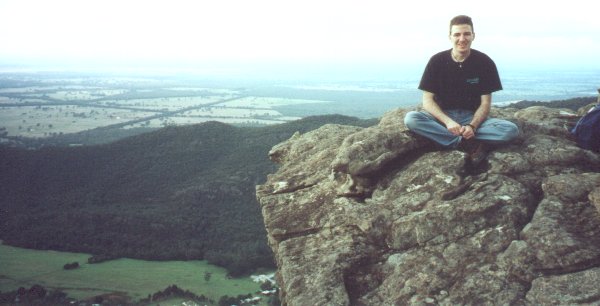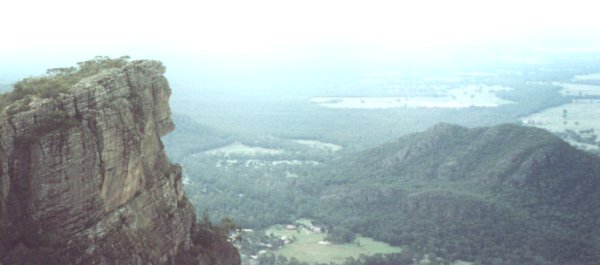 Hey, it's Pride Rock!
The Jail
On July 12th, I left the Grampians and went to Mt. Gambier, where I stayed for three days in a jail that had been converted to a hostel.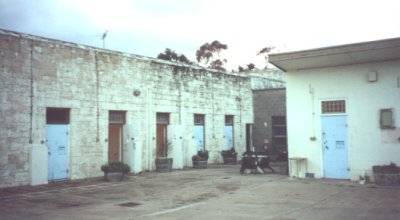 It's a pretty cold and creepy place to stay, and having a toilet next to your bed is just wrong. I did some work at the jail in order to get free accomodation and dinners.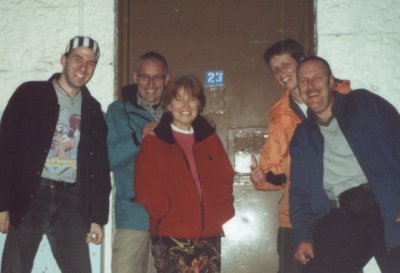 Me, Vic and Roz (an English couple I ran into on a number of occasions), and Anne and Hank (from Holland).
On to Adelaide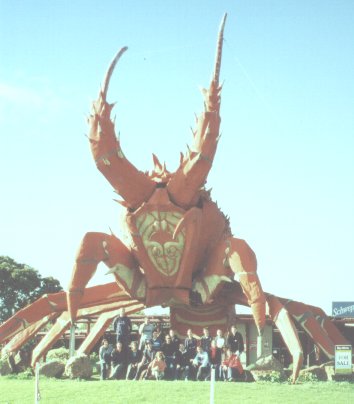 On the way to Adelaide, the Oz Experience bus passengers pose with Larry the Lobster. Our driver had to go across the street to take the picture and get it all in.
I don't have any pictures of Adelaide, but its mostly what you'd expect from a medium-sized city. There's nothing really exciting in the city (although I did enjoy the museum there), and I found that most of the travelers in Adelaide were just waiting for their bus trips to leave.



| Intro | Sydney to Canberra | Canberra to Melbourne | Melbourne to Adelaide | Into the Outback | Flinders Ranges to William Creek | William Creek to Coober Pedy | Coober Pedy to Uluru | Uluru and Kata Tjuta | Kings Canyon | Alice Springs to Cape Tribulation | Cape Tribulation | Scuba Diving | Cairns to Sydney

Back to Rich's Picture Album