Tour of Oz
Sydney to Canberra
June 25 - June 29, 2001
On Monday, June 25th, after an evening of packing up all of my Sydney possessions and getting 90 minutes of sleep, I got on a bus heading west. I would be getting off in Canberra that evening, but on the Oz Experience, the bus company I was traveling with, we would be making many stops along the way.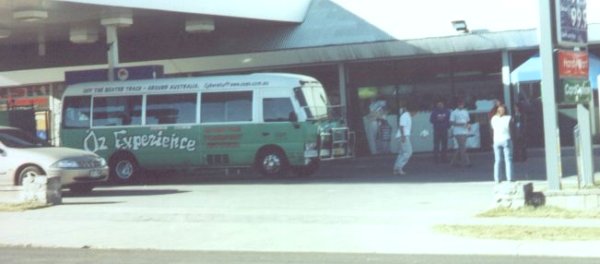 They don't play soccer at the gas stations on the Greyhound.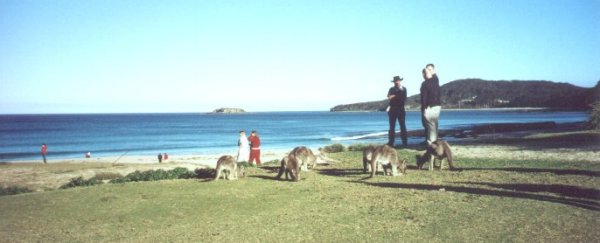 One of our first stops, Pebbly Beach, where I saw and touched wild kangaroos for the first time.

Canberra
I was in Canberra (the capital of Oz) until Friday June 29th. While there, I spent most of my time sightseeing and hanging out with two fellow Oz Experience passengers, Rosalia and Sue. Some stuff I did:
Whilst possibly affected by alcohol, I was talked into singing "When Doves Cry" and "Summer of 69" (as well as some other songs I barged in on) at the bar downstairs from our hostel on karaoke night.
Lost the first game of a pool competition (and was eliminated). But I don't feel too bad; the guy that beat me won the competition.
Saw Questacon (a sort of science playground like the Ontario Science Center), the Mint, and the National Gallery.
Would have been very embarrassed when my cell phone rang in the High Court of Australia (it was my Dad), but luckily court was not in session.
Explored Australia's very cool parliament building, which is built in to a hill.
Following a horrible culinary blunder, came to the conclusion that tomato paste is not the same as pasta sauce, despite similarities in visual characteristics.


The Australian parliament building is really cool - it's built in to a hill.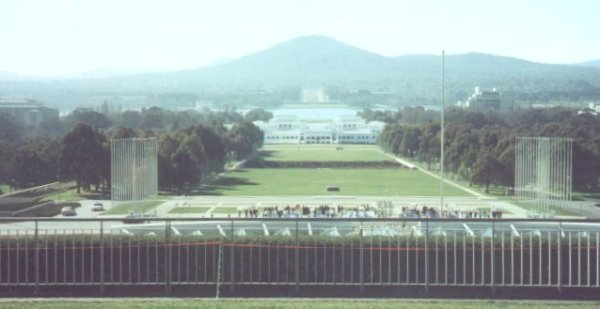 The view from the grassy roof of the parliament building. On the other side of the field is the old parliament building, and across the lake you can (barely) see a long strip of grassy land that leads to a war memorial.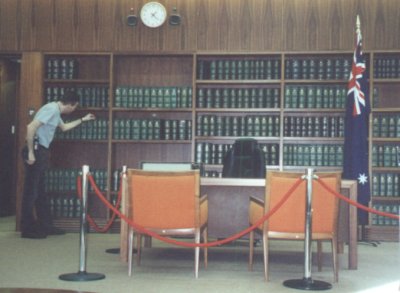 Me trying to look scholarly in the old Prime Minister's office.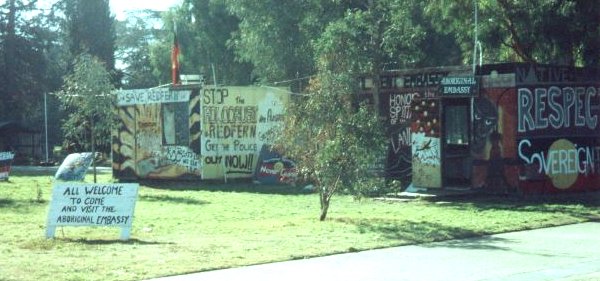 The "Aboriginal Embassy" - a shack on the lawn of the old parliament building. Australia's Aboriginal people were horribly mistreated when Australia was settled by the English, and today many of them have lost touch with their ancestral way of life, yet they have not adapted to the new westernized way of life.

Inside the Aboriginal Embassy.



| Intro | Sydney to Canberra | Canberra to Melbourne | Melbourne to Adelaide | Into the Outback | Flinders Ranges to William Creek | William Creek to Coober Pedy | Coober Pedy to Uluru | Uluru and Kata Tjuta | Kings Canyon | Alice Springs to Cape Tribulation | Cape Tribulation | Scuba Diving | Cairns to Sydney

Back to Rich's Picture Album