Tour of Oz
William Creek to Coober Pedy
July 21, 2001
We continued our journey north, along the Oodnadatta Track towards Alice Springs.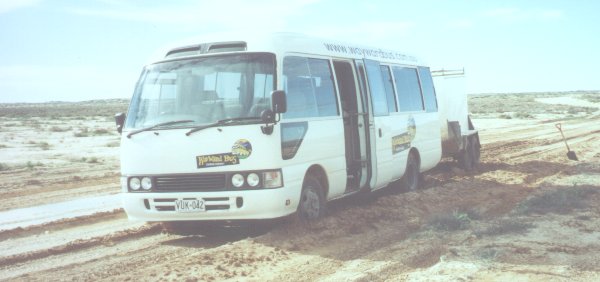 We went a bit off the track to see Lake Cadibarrawirracanna, where our bus got stuck in the mud. We all got out and tried to push it out, but it fully intended to stay where it was. Bill tried to radio for help, but wasn't able to reach anyone (actually, he reached the Royal Flying Doctor Service, a sort of emergency-in-the-outback service, but they didn't much care for our mud problem).
Bill walked back to the road and flagged down help from a few 4x4s. They attached a tow rope and tried to drag us out, but they were unable to free us. We were about to give up when Becky suggested we try pushing again. It seemed futile, but there wasn't much else to do. With Bill behind the wheel and us behind the bus, we rocked, we struggled and we grunted. Our bus protested, moved a bit, halted, protested again, and finally gave in to our plees for freedom. After about five hours of Lake Cadibarrawirracanna, we were free!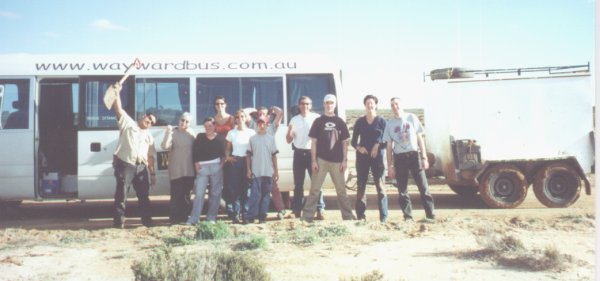 Our victory photo. As we drove away, we all sang "We are the champions".
On the Road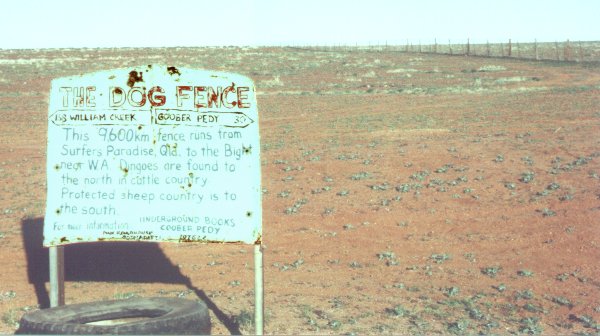 Australia's Dog Fence is the longest fence in the world, stretching 9600km (5965mi). It keeps the dingoes to the north away from sheep country in the south. Where roads intersect the dog fence, there is a grating on the ground that the dingoes will not cross.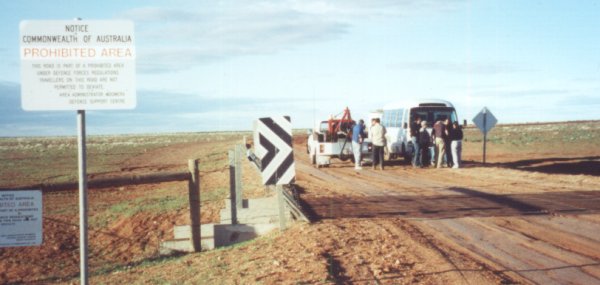 At the dog fence, we met up with a tow truck that was coming out to save us from Cadibarrawirracanna. The driver stopped to talk to us for a bit. Out here, no one notices if two vehicles stop and block the road for 15 minutes.


Ahhh, another awesome sunset.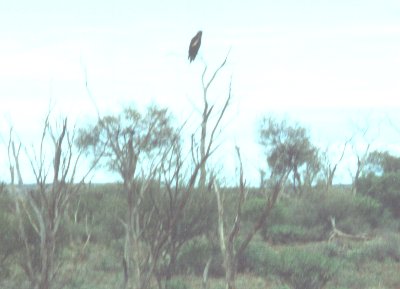 The Wedge-Tailed Eagle.
Coober Pedy
Coober Pedy is an opal mining town. Located in the middle of the desert, and having lots of mining equipment on-hand, many of the residents have created homes underground or build into mountain sides.

We took a tour of an opal mine, but there wasn't much in the way of pictures, except of the sign as we drove into the area...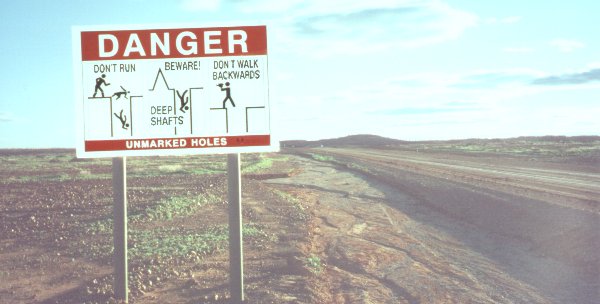 Don't walk backwards.
We stayed in an underground hostel in Coober Pedy, and I met up with a number of Oz Experience people. It was all good.



| Intro | Sydney to Canberra | Canberra to Melbourne | Melbourne to Adelaide | Into the Outback | Flinders Ranges to William Creek | William Creek to Coober Pedy | Coober Pedy to Uluru | Uluru and Kata Tjuta | Kings Canyon | Alice Springs to Cape Tribulation | Cape Tribulation | Scuba Diving | Cairns to Sydney

Back to Rich's Picture Album